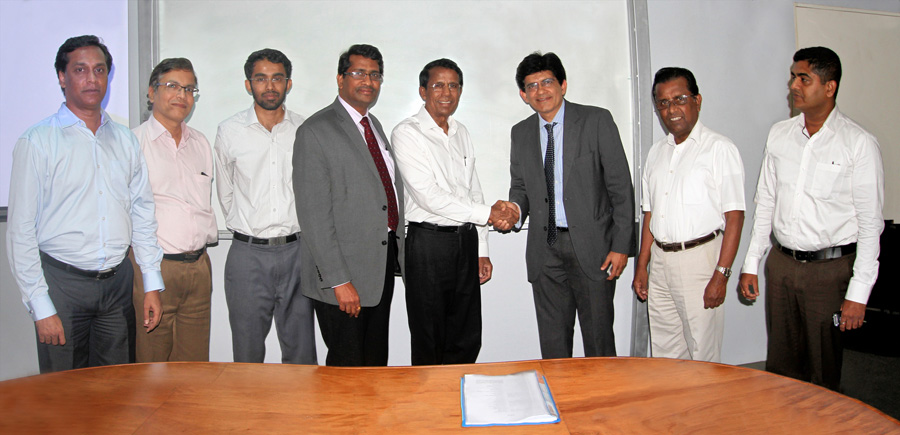 Sri Lanka's largest construction company, Maga Engineering (Pvt) Ltd announced that it will implement a fully-fledged Enterprise Resource Planning (ERP) system together with US & India based Infor Global Solutions, to improve its management control and achieve service excellence. The agreement signing ceremony was held at the Maga's Head Office in Colombo recently.
After a comprehensive requirement analysis and vendor evaluation with the help of KPMG IT Advisory, Maga has selected Infor as the most suited ERP partner. Infor is a global giant in providing enterprise software, ranging from financial systems and resource planning, to supply chain and customer relationship management. Infor has a successful history spanning over 3 decades of working with corporate entities around the globe, with over 73,000 customers across 194 countries.  Infor LN is the leading integrated suite of software designed specifically for project-driven, engineer-to-order or work-order-based industries.
Maga will be implementing its latest version Infor LN 10.4, covering the scope of Project Management, Estimation & Tendering, Procurement & Inventory Management, Sub-contracting, Production & Sales, Plant Fleet Management and Financial Accounting. The above modules will be supported with Document Management, Workflows & Reminders, Business Intelligent (BI) Tools, Dashboard and Mobile Apps.
Infor's integrated resources management system will focus on bringing technology, business processes and people together to achieve optimal business results. Through analyzing these three factors with respect to performance, complexity, cost and utilization, Maga is confident that it will be able to implement control strategies to drive systems optimization, eliminate inefficiencies, reduce costs and optimize value generation across the board.
Commenting on this significant venture, the Chairman & Managing Director of Maga Engineering, Mr M. G. Kularatne stated "the introduction of a more integrated resource management software has been identified as an essential need for Maga, in the face of our continuous expansion and the resulting business needs. With this implementation, we will be able to further streamline our processes and make them visible across all departments horizontally and vertically, resulting in quicker response times and greater efficiency across the organization. The investment is future-oriented and our partnership with a global specialist in the field reflects the company's vision to be the most competitive and trusted construction company in the region."
Speaking on the occasion, the Managing Director of Infor India Sub-Continent Mr Atul Sareen said, "Sri Lanka is a key market for Infor, with many customers across industry. Infor now brings in expertise and experience of having implemented its LN ERP solution across the world in projects and construction companies. In Sri Lanka, with our partnership with Maga Engineering, Infor has added another feather into its cap of construction companies which run Infor ERP LN."  Mr Ranga Pothula, Vice President of Infor Consulting Practice and Center of Excellence assured that "we are delighted to play the trusted advisory role for Maga with our ERP solution which encompasses deep projects functionality and is supported by experienced industry consultants."
The project team from Maga & Infor will be working towards successful implementation under the guidance of top management of both companies. ERP implementation project will run for a period of 12 months and the solution will cover all departments, projects and activity centers across the country.