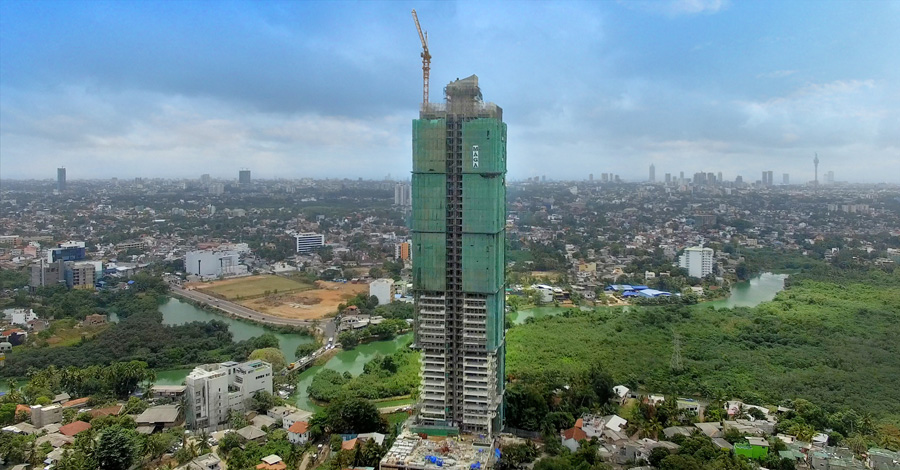 Maga Engineering, Sri Lanka's leading construction company, announced that it has completed the building structure of its flagship residential project, the 48-storey Clearpoint Residencies, set to be the world's tallest vertical garden upon completion. Clearpoint now stands at 185m and is presently the second tallest building structure in Sri Lanka, second only to Grand Hyatt Colombo which is also being built by the construction giant.
A brainchild of renowned architect Milroy Perera, Clearpoint Residences is a joint venture between Milroy Perera Associates and Maga Engineering. The residential apartment tower consists of 171 apartments comprising of 2, 3, 4 bedroom apartments, a limited number of penthouses and presidential suites spread across 48 storeys. One of the key highlights of Clearpoint Residencies will be the planted terraces encircling the building. Formation of a green cover through the planting of trees will provide a natural cooling system for the entire building, resulting not only in a fresher and more relaxing atmosphere, but less energy spent on air conditioning. The plants will be maintained through a specially designed automated drip irrigation system that uses recycled water. Furthermore, several key sustainability features such as solar panels, rain water harvesting, water recycling and solid waste management have been incorporated in to the building.
In overcoming the complex engineering and construction challenges encountered in bringing this landmark residential tower to life, Maga Engineering used innovative engineering technologies throughout the construction process. Post-tensioning (a technique for reinforcing concrete with pre-stressed steel cables) was used in the construction of the suspended floor slabs of the 9-storey car park, as well as the protruding balconies that will house the private green terraces ('vertical gardens') of each apartment, the signature feature of the building. These terraces and the 10 private swimming pools were constructed using cantilevered working platforms anchored at one end that required meticulous planning and flawless execution.
Commenting on the special occasion, Chairman & Managing Director of Maga Engineering Mr M. G. Kularatne stated, "The on-schedule completion of Clearpoint's structural work symbolizes the passion and commitment ingrained in the entire project team to bring this landmark building to life, overcoming the numerous challenges they have faced along the way. Beyond commercial considerations, Clearpoint aims to redefine the future of high-rise living and act as a benchmark for sustainable buildings across the globe. It is truly a project close to our heart."
Constructed at a cost of 6 billion rupees, Clearpoint Residencies will be ready for occupation by mid-2017.
http://www.ft.lk/article/568898/Maga-completes-structural-work-of-Clearpoint-Residencies