(Sunday Observer : 05 April 2015)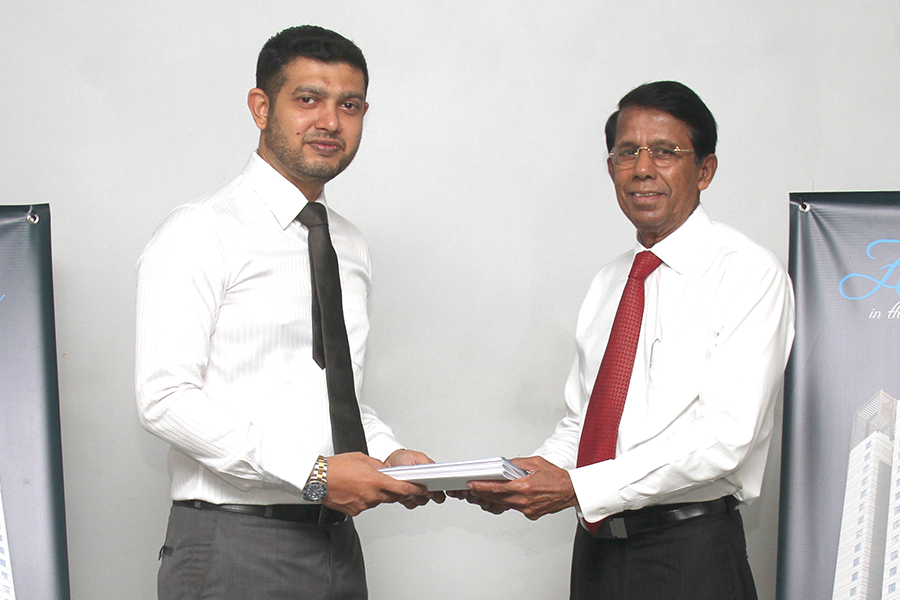 "The Orwell Residency, an up-market luxury apartment project of SMI Housing Developments (Pvt) Ltd will be the latest addition to the apartment industry of Sri Lanka.
Spurred by the success of the first project, Orwell Residency has embarked on its second project at a prime location in Kollupitiya.
"We are an Indian company having a local partner and based in Sri Lanka. The apartment complex we are building at present consists of a 200-room hotel, three shopping malls each with 150,000 square feet and residency units," SMI Housing Developments (Pvt) Ltd, Director Fazrin Ibrahim said.
"Our Indian business includes garment factories and we also have garment factories in Sri Lanka and have ventured into the food sector by introducing Pepsico snacks to the local market," he said.
SMI Housing Development is a BOI approved company.
"We signed an agreement with Maga Engineering (Pvt) Ltd for the construction of the apartment complex. Maga Engineering headed by Captain Kularatne is working towards making our project a success," he said.
The Orwell Residency is a 26-storied structure with 65, three bedroomed apartments, each with a floor area of 1,700 square feet. The features of these apartments are fully equipped gym, lapping swimming pool, lobby, reception and recreation area.
The increase in the family-oriented upper middle class community has provided an ideal and viable business proposition for housing and construction related business.
"The apartment land at Deal Place, Colombo 3 is a privately owned property and we entered into an agreement with them to enable us to move forward with the project. Although, construction is at the initial stage, we have already sold 65 percent of the apartment," Ibrahim said.
The piling of the residential project is already completed and the company schedule to complete the entire project by May 2017.
Abut 70 percent of those who have purchased the apartments are locals while the rest are foreigners."This is because the price and location are right. Customers have confidence in the product we offer. The units which have all the facilities for top-end clients will be a landmark in apartment living," he said.
"We will further expand our apartment and residential portfolio by adding more projects in the future. Our main concentration will be on prime residential apartments, Ibrahim said."
http://www.sundayobserver.lk/2015/04/05/fin41.asp