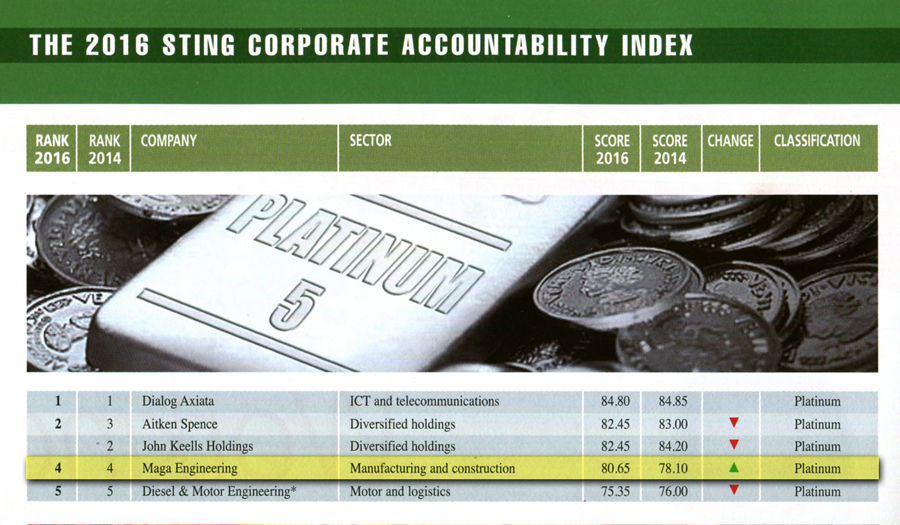 Sri Lanka's largest construction firm Maga Engineering was ranked No. 4 in the Sting Corporate Accountability Index for year 2016, retaining its ranking from year 2014. The Sting Corporate Accountability Index is an independently researched analysis on the standing of corporate Sri Lanka against a model of responsible business practices.
Maga holds the distinction of being the only platinum-rated construction company in the index. Maga's sustainability management framework which governs its activities adheres to the standards laid down by various international systems, while practicing integrity, enhancing customer value, good citizenship, accountability and teamwork.
"It is a great honour to be a Platinum rated company in the Corporate Accountability Index. From inception, our vision has centred on sustainable development and changing the landscapes around us, with least disturbance to the surrounding eco-system, to bring about positive change. This rating is also recognition of our efforts during a challenging year, and is a testimony to the great character of our organisation and the strength of our engagement with our stakeholders," said Maga Chairman and Managing Director M.G. Kularatne.
During the year, Maga was involved in several noteworthy projects such as the 100-kilometre Anuradhapura-Trincomale Road, 47-storey Grand Hyatt Colombo and NSBM Green University Town. Maga have not only set local industry benchmarks, but global benchmarks with pioneering projects such as the 47-storey Clearpoint Residencies, which once completed, will be the tallest vertical garden in the world.
As a key organisational stakeholder of the Global Reporting Initiative (GRI), Maga had the distinction of being the first Sri Lankan company to publish its sustainable performance under GRI G4 Guidelines.