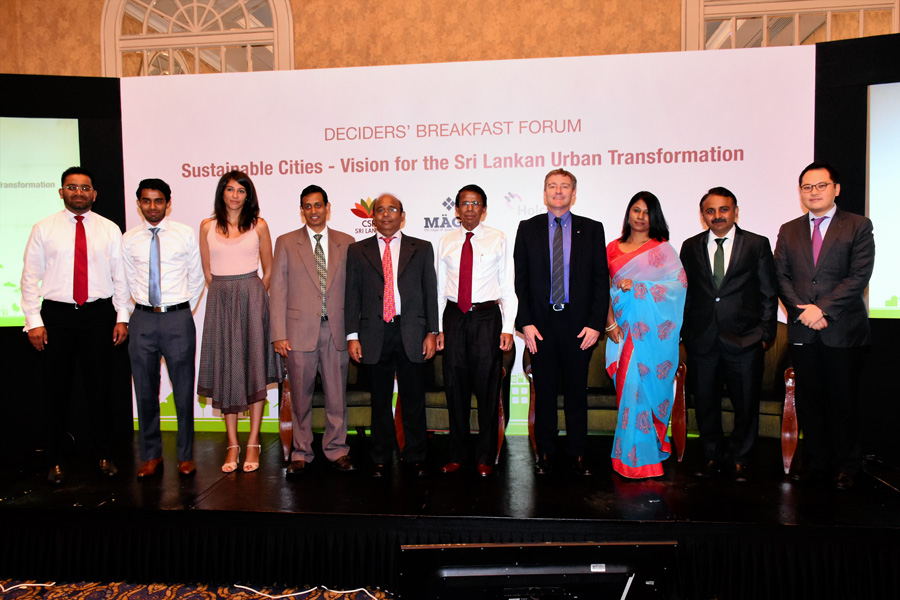 Holcim (Lanka) Ltd., a member of the Lafarge Holcim Group who is a global leader in the
building material industry, Maga Engineering Ltd., Sri Lanka's leading construction and engineering company together with CSR Sri Lanka (Guarantee) Ltd., held their first Deciders' Forum at Hilton Colombo on 9 March under the theme 'Sustainable Cities – Vision for the Sri Lankan Urban Transformation'.
The forum comprised of top-level decision-makers and stakeholders from both private and public sectors, in an effort to share knowledge, expertise and industry best practices and shed light on future plans. The introduction and objective setting was carried out by the moderator World Bank Senior Urban Economist Zhiyu Jerry Chan. This was followed by Urban Development Authority (UDA) Director General Nayana Mawilmada, who presented the key concepts behind sustainable urban development in Sri Lanka and the Government's plans for same.
The keynote speech was delivered by Surbana Jurong Consultants Ltd. Singapore Managing Director (South Asia and Middle East) Dr. Uma Maheswaran, on the planning of sustainable cities, key principles and a case study on Singapore. Concluding remarks was presented by Western Region Megapolis Planning Project Director Lakshman Jayasekera, on the model for the Megapolis project.
Dr. Uma Maheswaran in his keynote speech commented, "All across Asia, sustainability in construction is the most pertinent problem today. Within the last decade, sustainability as a constant has evolved, and has come to some kind of global understanding, but there are still different shades of sustainability. However, the big question today is, do we begin projects correctly? It is imperative that the leaders in construction and its partners get it right from inception, which means setting key performance indicators succinctly and correctly for every individual involved."
Nayana Mawilmada pointed out some common challenges of urban development in all Sri Lankan cities including handling congestion, solid waste and urban sprawl and noted, "The principles of sustainable cities have been embedded in the Government's Megapolis plan and the project proposals are being developed with sustainability at its core. The vision of sustainable cities is also integral to the plans being initiated for several other major cities of Sri Lanka such as Galle, Kandy, Jaffna and Trincomalee." He stressed that this long-term vision can be achieved through a coordinated effort across agencies and a combination of both government and private financing.
In his concluding remarks, Lakshman Jayasekera pointed out that steps are being taken to fast-track and facilitate environmental approvals via a Strategic Environmental Assessment Programme (SEA), an integrated in-house process to wade through and combine a glut of applications and corresponding approvals.
These forums will be followed by three programs later in the year on several aspects of sustainability in the construction industry including challenges faced, social responsibility, finance and regulations and architecture and techniques. These forums aim to provide the construction industry stakeholders with a platform to exchange, develop and share their knowledge whilst addressing key concerns. This initiative is a result of the memorandum of understanding between Maga Engineering Ltd. and Holcim Lanka on charting a sustainable path for the construction industry in Sri Lanka.
http://www.ft.lk/article/532204/Holcim-Lanka--Maga-Engineering--CSR-Sri-Lanka-hold-Deciders--Forum-on-Sustainable-Cities