(Daily FT : 05 November 2015)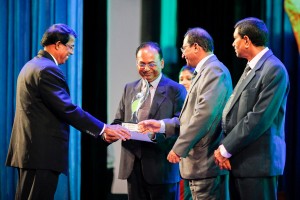 Maga Engineering, Sri Lanka's largest and most trusted construction company, was awarded the Silver Award by His Excellency the President Maithripala Sirisena at the National Green Awards 2014/2015 held in Colombo recently.
Maga received the award for its overall environmental performance, one of the fundamental pillars of the company's corporate sustainability agenda under which the company presently carries out several programs. As the only construction company in Sri Lanka to be felicitated at the event, this is the second instance in the brief history of the National Green Awards that Maga has been recognised for its commitment to the environment. In 2011 during the inaugural Green Awards, Maga won the Gold Award for its environmental performance.
Commenting on the achievement, the Chairman & Managing Director of Maga Engineering Mr M. G. Kularatne stated, "We are delighted to be a recipient again at the National Green Awards. As an organisation we have taken significant initiatives to reduce our environment footprint and maintain our leadership in the industry with respect to sustainable business practices. We have not only set local industry benchmarks, but global benchmarks with pioneering projects such as the Clearpoint Residencies, which once completed, will be the tallest vertical garden in the world."
As a key organizational stakeholder of the Global Reporting Initiative (GRI), Maga had the distinction of being the first Sri Lankan company to publish its sustainable performance under GRI G4 Guidelines. The annual National Green Awards is organised by the Central Environmental Authority of the Ministry of Mahaweli Development & Environment, in recognition of services rendered to the environment by organisations in the country, thereby encouraging them to be more involved with the environment.
http://www.ft.lk/article/492235/Maga-wins-Silver-at-National-Green-Awards