JAFFNA - KILINOCHCHI WATER SUPPLY AND SANITATION PROJECT (CONSTRUCTION OF SWRO DESALINATION PLANT, AT THALAIYADI)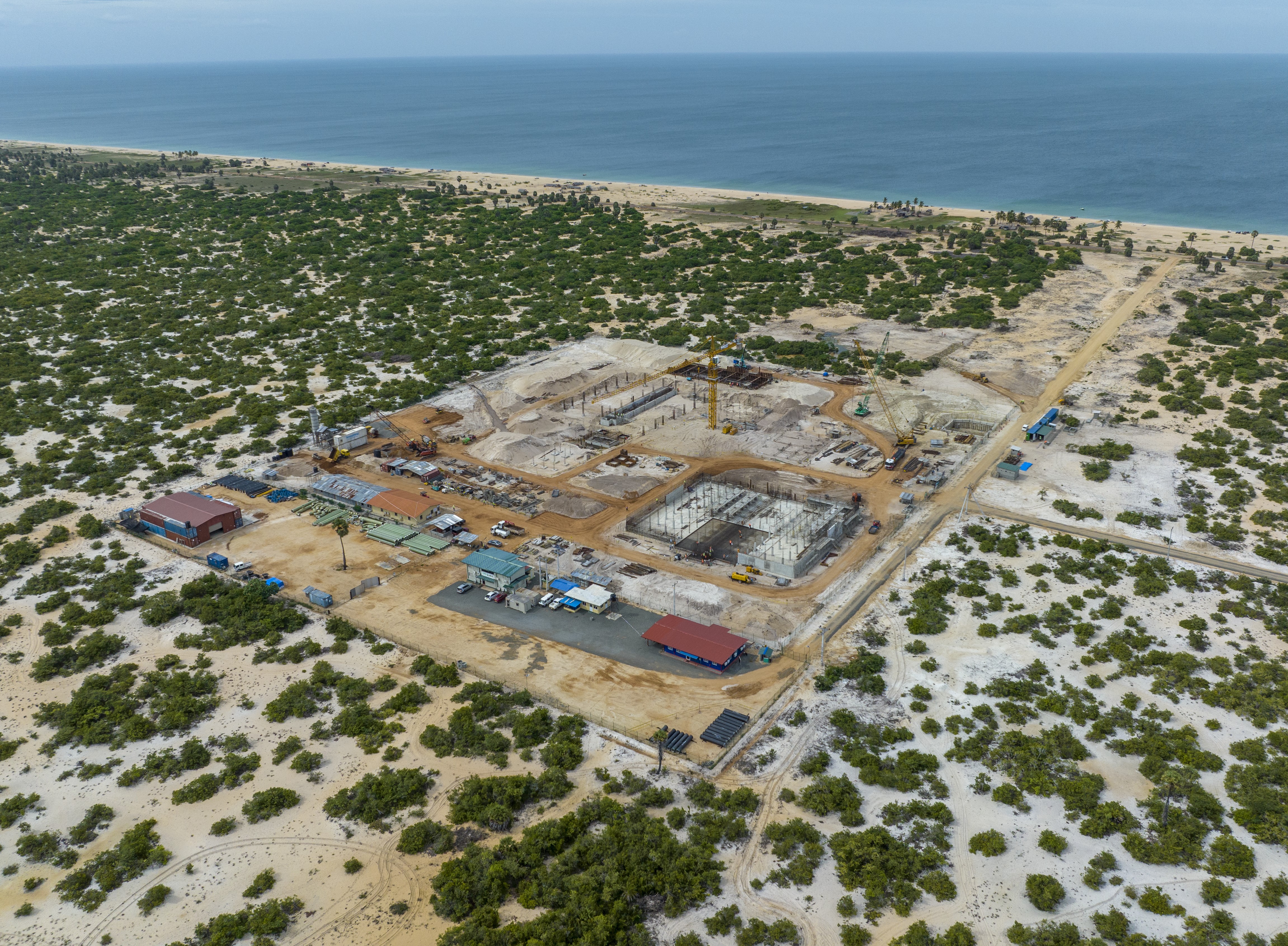 Construction of Sri Lanka's first ever Seawater Desalination Plant is presently underway in the country's Northern-most city: Jaffna. After completion, the new 24 MLD (24,000m3/day) capacity plant is expected to provide safe drinking water to over 300,000 people across 186 GN Divisions in the Jaffna District.
Jaffna District is the capital of the Northern Province and unique in its topography and morphology as it is almost completely bounded by the Indian Ocean. With a population of more than half a million and a rich agricultural heritage, the peninsula primarily depends on groundwater resources for household water consumption, irrigation, and industry. Jaffna's natural limestone aquifers provide a finite source of groundwater that is almost entirely dependent on the North-Eastern monsoon for recharge. However, this fragile source of groundwater has also come under threat due to saltwater intrusion resulting from excessive water withdrawal to meet increasing water demands, and Nitrate contamination due to agricultural runoff.
Obtaining suitable and sustainable water supply in the Jaffna Peninsula, amidst these difficulties, has been a long-term challenge for local authorities, National Water Supply and Drainage Board (NWSDB), and local communities. With less than 10% of the population in the district accessing pipe-borne water through a number of small-scale water supply schemes, there is urgent need for a long-term solution to provide safe drinking water to the people of Jaffna.
In response to these challenges, and considering the distinct characteristics of the Jaffna Peninsula, an innovative project was initiated by the NWSDB with financial assistance from the Asian Development Bank (ADB). The project was awarded to Main Contractor Suez International of France, one of the world's leading water services providers. MAGA has undertaken civil works of the project, including required conveyance pipeline of the Jaffna-Kilinochchi Water Supply and Sanitation Project (JKWSSP).
A first of its kind in Sri Lanka, the Jaffna Seawater Reverse Osmosis (SWRO) Desalination Plant is being constructed on a greenfield site at Thalayadi, Vadamarachchi East DS Division, in the Jaffna District. The plant will intake source seawater through an intake structure built almost a kilometer from shore; source seawater will then undergo comprehensive pre-treatment, before feeding into a Reverse-Osmosis (RO) system that utilises high pressure pumps and semi-permeable membrane filters to produce desalinated water. Thereafter, a post-treatment system further disinfects, while a remineralisation system ensures water is brought to a potable state for consumers. Once completed, the plant is expected to provide a flexible and sustainable source of potable water to the Jaffna Peninsula, with a fully operational capacity of 24 MLD (24,000m3/day), and with future expansion capacity to 48 MLD (48,000m3/day).
MAGA's scope of work includes construction of all process and non-process buildings including a number of pumping stations, tanks, filtration structures, buildings, storage areas, utility service areas, and other ancillary support structures. The project will also involve laying of 8km long 800mm DI piped water distribution system.
This landmark project is expected to be completed and handed over in mid-2024, in line with the government's three-phase plan to provide water for the entire Jaffna Peninsula, and to increase existing potable piped water supply in the Northern Province from 9.6% to 59.6% by 2025. Once completed, it will be key step in improving water supply and sanitation infrastructure for local communities leading to better health outcomes, while serving to protect and better manage water resources in the Peninsula, and contributing to Jaffna's development as a national growth centre as part of the government's long-term strategy for the Northern Province.
Maga Engineering has played a lead role in Sri Lanka's water-supply sector, delivering landmark projects of national importance in Colombo, Kandy, Galle, Kurunegala, Jaffna, Dambulla, Hambantota, Balangoda, Kolonna and several other regions across the Island. MAGA continues to work closely with the Ministry of Water Supply and the National Water Supply & Drainage Board as well as international and local partners to help achieve the Sri Lankan Government's vision of providing safe drinking water to all its citizens.